Those of us who have experienced relational trauma understand the discomfort of being in our own bodies. We understand how unnatural it feels to self-advocate and take care of ourselves. (And I mean actual self-care, not just rigidly refusing to lean on anyone else.) We understand what it's like to live our lives and make choices based in fear. I have put together a list of five books that I often recommend to clients who want to improve their self-care, learn how to set better boundaries, communicate more honestly and effectively, stop being controlled by their fear, listen to, understand and respect their bodies, support themselves, deepen intimacy, and stop dysfunctional behaviors that are hurting their ability to connect.
---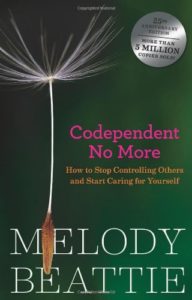 Codependent No More: How to Stop Controlling Others and Start Caring for Yourself by Melody Beattie
This is one of my top favorite books of all time, and I recommend it to anyone who is or has ever been a caregiver in any capacity and to those working in helping professions. The term "codependent" was popularized by Melody Beattie in the 1980s, but no one's sure who coined it. (Although many people have taken credit for it.)
Its definition was hard to narrow down to a succinct phrase since there are so many behaviors and reasons for those behaviors that fall under the umbrella of being codependent. Most of us agree that the heart of codependency can be defined as behaviors employed in the attempt to control someone else's behavior so that the codependent can get their needs met and whose behavior keeps them from getting their needs met. It's when we make someone else's problem our problem.
The term was originally used to describe loved ones of addicts, but we don't need to be in a relationship with an addict to be codependent. People who have been abused, raised by parents with personality disorders, loved ones of people with eating disorders, those with an anxious attachment style, those who are caregivers, people in helping professions, or people with otherwise lower self-worth can find themselves demonstrating codependent behaviors.
Like pretty much all things, codependency is a spectrum. Some of us have more traits than others and demonstrate them more or less often. The author understands that when we are trying to control someone's behavior, trying to get them to do something or stop doing something, we do things "at" them (use substances, clean, make a passive aggressive comment, nag, sigh loudly, eat, starve, spend money, etc.). There are endless ways that we might try to persuade someone to change their behavior. This book helps us to see that we're already holding the key to our own prison.
Codependent No More is an invaluable box of tools that teaches us to identify the problematic and controlling behaviors we use in an effort to get our needs met/avoid being abandoned and teaches us how to create healthier, more self-supportive behaviors for ourselves. In an honest, nonpathologizing approach, this book shines a light on why we've come to behave this way in relationship, our thinking, and self-beliefs behind the behaviors, and walks us through other options.
It's essential for those of us who want to learn how to set better boundaries. It's possible for us to be supportive of others and those in need without becoming completely worn down, exhausted, and bent out of shape. We don't have to hawk over someone's problem-behavior, be embarrassed by them, feel like the "mean one" in the relationship, and arrange our entire lives around people.
When someone else's problem has become our problem and we're tired of feeling helpless, frustrated, and resentful I recommend reading Codependent No More. Stop doing more than we can do.
I also recommend the Codependent No More Workbook for those who want guided practice of these new healthy behaviors.
---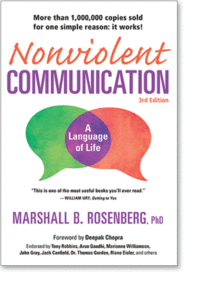 Nonviolent Communication by Marshall Rosenberg
When we've been oppressed, marginalized, or abused we usually don't see our options. We either react or see our choices as a series of ultimatums. We believe that people, places, and things can "make us feel" a certain way. It's the old, "I only did that because you completely infuriated me." We speak the languages of blame, shame, and guilt. We don't understand accountability, personal responsibility, and choices.
We're used to living stressed out lives. We're habituated to feeling controlled in our relationships, at work, in life. We've acclimated, but it's not a normal way of living. Trauma symptoms are often described as "normal reactions to abnormal situations." Many of us have either experienced abnormal situations growing up or have grown accustomed to living life as a continuous series of abnormal situations, often both. We end up normalizing disempowerment. We believe that others hold our happiness in their hands.
Nonviolent communication is so much more than the name lets on. It's about recognizing our choices and acknowledging the difference between our backs being up against the proverbial wall and feeling as though they are. It gives us tools to understand how we've interpreted an event, teaches us to identify our feelings about it, helps us to see our choice of response to the event and our feelings about it, and how to take responsibility for our feelings and choices.
We learn to stop trying to control others' behavior and beliefs. Our intention shifts from trying to get something from another person to clear, honest communication for the sake of our integrity, sanity, and wellness. We learn to employ curiosity to deepen understanding of our experiences, of others' experiences. Through the practice of nonviolent communication, we start the process of transforming our judgments. We create more space between ourselves and reactivity.
We land the jump from, "I yelled at you because you made me mad," to "I yelled at you because I've been feeling overwhelmed and insecure about a lot of things. I interpreted what you said as dismissive and felt sad and outraged. I lost it." The practice of nonviolent communication helps us to see our part in things, that everything isn't our fault and everything isn't someone else's fault. It gives us the freedom to identify our responsibility in a situation, to own it, and, realizing we can't control other people, to let the rest go.
---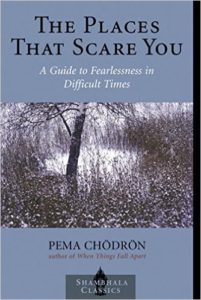 The Places That Scare You by Pema Chodron
There are myriad books about humans' innate fear of death, but I'd always found a shortage of discourse about our fear of life. I came across this book ten years ago, and it pointed me in the right direction. (As it turns out, there is much discussion on our fear of living in psychospiritual literature.)
In The Places That Scare You, Pema Chodron talks about the common human fear of living our lives. Most of us experience this at one time or another, but those of us who have lived through extended relational trauma often experience this fear more chronically. We feel anxiety about everything- doing something, not doing something, going somewhere, leaving somewhere, falling in love, never falling in love, staying stuck, making progress, literally anything. We are anxious all the time and driven into depression from our lack of traction.
Pema Chodron helps us to reconnect with our inner intelligence that allows us to interpret our fear and helps us to find ways to support our fearful parts. Her book shines a light on the path back to self-trust and resilience. We learn to listen to our experiences, take care of ourselves around fear and pain, and reemerge from our protective shell.
Above all, the message in this book serves as an encouraging and insightful guide to allowing people and circumstances to be whole in their complexity. It's possible for us to hold all of our experiences without having to over-compartmentalize. We can handle disappointment, hurt, and anger without having to permanently retreat.
Pema introduces us to the simple application of gentle curiosity. When we practice this, eventually, we begin to recognize what our fear is telling us. Using our own intelligence, we can identify, accept, and respond to our needs.                           
---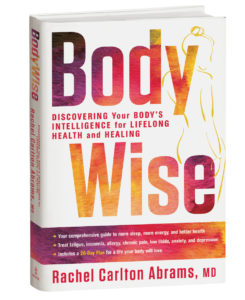 BodyWise: Discovering Your Body's Intelligence for Lifelong Health and Healing by Rachel Carlton Abrams
When we've been physically, sexually, emotionally, or systematically abused and traumatized, we have felt unsafe in our bodies. Even having a body has felt unsafe. Many of us have depersonalized to the point of being unaware of our biological needs and urges (hunger/satiety, thirst, body temperature, pain, urination, and other body sensations).
Our bodies hold valuable wisdom. They communicate all sorts of information to us like when we are getting a bad feeling about someone, when we need more protein, when we're relaxed, when something is working for us, when something needs to shift, when we need attention and help. If we are cut off from our bodies, we are cut off from that intelligence.
In BodyWise, we find helpful, detailed techniques for establishing a safe and empowered connection to our physical bodies. If we've been struggling, it's possible for us to feel at home in and accepting of our bodies. Dr. Abrams offers an insightful 28-day program for bringing physical and emotional healing and balance to our bodies. This program is most empowering because rather than presenting general tips, it requires a detailed self-assessment. This makes the program unique for each participant.
Dr. Abrams' gives clear, accessible advice for exploring and taking ownership of our physical health (or unhealth). Her approach is nonpathologizing, direct, and humorous. She reminds us that we can have a safe, loving, intuitive, and supportive partnership with our bodies.                           
---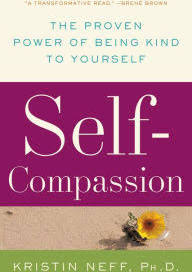 Self-Compassion: The Proven Power of Being Kind to Yourself by Kristin Neff
Self-compassion is still making its way into mainstream culture. While it looks like mainstream culture isn't quite finished strong-arming itself, a lot of us are. People who are tired of living a life of self-criticism, blaming others, perfectionism, chronic overwhelm, and disempowerment will find great refuge in this book.
Those of us who have experienced any form of relational trauma are not well-practiced in the art of self-compassion. We know how to care-take, anticipate the needs of others, turn off our own needs for long stretches, blame others for our feelings, blame ourselves, guilt ourselves, and are experts at all-or-nothing thinking. In fact, due in large part to our conditioning, most of us are pretty sure that self-compassion is synonymous letting ourselves off the hook or getting away with something.
Self-compassion is "self-kindness, common humanity, and mindfulness," as defined by Kristin Neff, author of Self-Compassion and leading researcher of this subject. When we extend compassion to ourselves in difficult times, we offer support to ourselves. Here is an exercise called "Self-Compassion Break" taken from her book:
            This is a moment of suffering (or difficulty).
            Suffering (or difficulty) is a part of life.
            May I be kind to myself.
 There is no letting ourselves off the hook or getting away with anything. There is only acknowledgment of our experience, validation, and support. If it is hard for us to accept outside support, this is a soothing exercise. If we feel like we can never get enough support from others, this is also a great exercise. There's power in our ability to face our experiences and offer ourselves support and kindness.
In this book, Kristin Neff guides us through the demystification of self-compassion, clarifies what self-compassion is, why it's necessary and teaches us direct and accessible daily practice.
If we are struggling with shame, guilt, and anger, this book is especially helpful for us. It doesn't sugar-coat a situation. To be sure, the tenants behind the practice of self-compassion encourage us to look honestly at whatever we're dealing with so that we can support ourselves, ask for help when we need it, and respond in alignment with our values.
---
Like all self-help books and therapeutic tools, these books are only as useful as the reader is willing to put their advice into action. Sometimes it takes a few rounds of reading them. Sometimes we need to be in therapy and go through them with a skilled clinician. If you have been thinking about starting or going back to your own therapy process and have any questions about next steps, please contact me for help.
Learning to self-advocate is not easy, especially if we have received messages that it is not safe for us to do so. And often, in some way or another, we have.  Self-care and self-support do not always come naturally to us. And making choices based in fear often seems like the only available option.
While these books are not the silver bullet we've been waiting for, they are helpful tools, and the authors offer deep insight into healing our physical and emotional selves. We can learn to live more fully and authentically, communicate more directly, self-advocate, and participate wholeheartedly in our relationships.
We have been living in a dim room with one arm tied behind our backs. There is hope for illumination and freedom. We don't have to struggle through life. We can accept ourselves, feel at home in our bodies, and respond to issues in our lives healthfully and skillfully.
Love and Be Loved,
Natalie
I am a licensed mental health professional serving Portland, OR. 97205.